Weaker than the Sword
WHEN ISLAMIST GUNMEN murdered eight staffers of the French satirical newspaper Charlie Hebdo in January, I did two things in response: purchase an international subscription to Charlie and join the PEN American Center.
The subscription wasn't cheap (about $180 (US)), but it has been well worth the cost. There is nothing quite like Charlie in the English-speaking world (Britain's Private Eye comes closest, but isn't nearly as scatological), and it immediately opened a window into the wild world of French satire. So excited was I upon receiving my first issue in the mail that I tore through the plastic packaging and ripped the edges of the first, post-massacre issue, whose cover featured Muhammad holding one those ubiquitous "Je Suis Charlie" signs that popped up at rallies and in social media avatars in the wake of the massacre. (I have since framed the newspaper, which will occupy a prominent place on my wall). I've also been able to practice my pitiful French-language skills, which haven't been put to serious use since my freshman year of university.
Joining the ranks of PEN was predicated upon similar motivations: defiance and writerly solidarity in the face of armed aggression against free speech. I make a living by expressing what I want and the notion that I could ever be prevented from doing so—least of all by bearded, homophobic, misogynistic, half-literate, religious fanatics—is so appalling that forking over $125 (US) to a storied organization that campaigns for free speech seemed like the least I could do.
According to PEN, I was but one of many writers who joined the organization in the wake of the killings, part of a "spike" in new memberships. I felt deeply proud to be part of this community when PEN announced that it would bestow its Freedom of Expression Courage Award upon the remaining staff of Charlie, who, in the words of executive director Suzanne Nossel, are "holding the far frontiers of free expression on behalf of us all." (The ceremony, part of PEN's annual literary gala, will happen tomorrow in New York.)
As far as freedom of expression is concerned, we are indeed engaged in a war between Enlightenment values and religious obscurantism, so it was perfectly appropriate for Nossel to use martial language in her praise of Charlie, whose staff made the ultimate sacrifice on behalf of the most important human freedom: that to express oneself without being murdered for it.
However, as in any war, there are turncoats, and we now have a list of 204 (and growing) traitors to the cause of free speech. Their names are helpfully appended to the bottom of a letter initially signed by six PEN members protesting the decision to bestow a prize to Charlie. "Power and prestige are elements that must be recognized in considering almost any form of discourse, including satire," the letter, signed by the likes of Michael Ondaatje, Teju Cole, and Francine Prose, declares. "The inequities between the person holding the pen and the subject fixed on paper by that pen cannot, and must not, be ignored."
This odious missive came on the heels of a speech delivered several weeks ago by the celebrated American cartoonist Garry Trudeau, who similarly argued that the relative "power" of the mocked and those doing the mocking be considered essential in determining the worthiness of any particular piece of satire. Muslims are a socially and economically disadvantaged group, this reasoning goes, and therefore beyond reproach. Charlie, Trudeau declared, constituted "hate speech," and those who defended it were embracing a "kind of fanaticism."
That Muslim fundamentalists—the targets of Charlie's satiric pen—held less "power" then the cartoonists who occasionally mocked them would certainly come as a surprise to the people who were murdered that January morning. Basic logic would dictate that men with guns and the willingness to use them have more "power" than cartoonists whose only weapon is the pen. But basic logic surrenders when confronted by the ideological dictates of what I've diagnosed elsewhere as the progressive left's "Rock, Paper, Scissors" metric of politically correct victimology, in which "the validity of one's argument is determined not by the strength of your reasoning but by the relative worth of the immutable qualities you bring to the table, be it skin color, sexual orientation, or genitalia." In the left's perverse hierarchy of virtue, Muslims are the most victimized people on earth. Because the murderers were dark-skinned Muslims and the murdered were white atheists, the normal standards of guilt and innocence do not apply. The crime they committed must be understood within the context of, to quote the open letter to PEN, "the anti-Islamic, anti-Maghreb, anti-Arab sentiments already prevalent in the Western world." The most preposterous of the anti-Charlie writers has to be the Russian-American novelist Keith Gessen, personification of the arriviste literary fraud, who openly admits to never having read a single issue of the newspaper yet proclaims the ability to somehow pass judgment on its contents.
Many other writers have assailed Trudeau and the PEN letter-signers for their morally asinine interventions; there is little more that I can add to their skewering of these idiots. Fewer have taken up the substantive claim that Charlie is a "racist" publication not deserving of our tribute. Writing for the Guardian, novelist Francine Prose, one of the six original signatories to the PEN letter, likened Charlie's contributors to Nazis—whose speech she obviously abhors, but whose First Amendment right to march in Skokie, Illinois, she would also have defended, just as she defends the right of Charlie to publish whatever it wants but feels uncomfortable celebrating its contributors.
One doesn't even need passable French language skills to understand how silly—and, to use a word germane to this debate, offensive—is this characterization of Charlie Hebdo. For the past two months, I have perused every issue of the paper. The most caricatured figure is Jean-Marie Le Pen, former leader of the far-right National Front and a man we can all agree to be a racist, who is invariably portrayed as a hideous ogre. Coming in second is his daughter Marine Le Pen who is similarly portrayed in an unflattering light. A recent Charlie cover, commenting on Marine's strategic distancing from her father over his latest outburst, depicts her as a hairy, naked beast with sagging breasts, using a bone to pick her teeth as Jean-Marie's eyeball protrudes out of her fat posterior. "HOW I ATE MY FATHER," screams the headline. Statistics bear out the impression that this is a newspaper far more preoccupied with France's far right than its "marginalized" Muslims. According to Le Monde, of 523 covers published from 2005 to 2015, only seven mocked Islam or Muslims; over 300 concerned French politicians.
Last Friday, I had the opportunity to see Charlie editor Gérard Biard and film critic Jean-Baptiste Thoret in Washington, DC. It is clear to anyone who spends five minutes listening to these men how preposterous is the claim that they or their newspaper are racist. "We at Charlie Hebdo are against anything iconic," Biard said, adding, "We are against soccer." In the anarchic, anti-clerical, anti-establishment world of Charlie Hebdo, literally nothing is sacred, whether religious prophets, politicians or wildly popular sporting leagues. All are fair game for ridicule. But it is icons who are ridiculed—not racial groups.
What impressed me most about these two men was their lack of anger and pretension. When I received an email from an anonymous account asking if, as a PEN member, I would sign the open letter disassociating myself from the prize awarded to Charlie, I wrote back, "Go fuck yourselves." It seemed like the only appropriate response to a group of impossibly smug, self-satisfied individuals whose understanding of freedom is so tenuous as to be meaningless, and who are using that freedom to spit on the graves of individuals who had literally died defending the freedom we—as writers living in a free society—all take for granted.
Yet Biard and Thoret were the epitome of calm, cool, and collected; that there would be people upset about them receiving an award was, to them, expected. Indeed, it seemed like they would be disappointed if there wasn't some sort of protest. Asked how he felt about the contretemps, Thoret replied that controversy was a positive thing. "Even in Charlie Hebdo we disagree. Often. 'What did you write? ' 'Your cartoon is awful!' 'You understand nothing.' "
We could all learn from Biard and Thoret, whose joie de vivre in the face of unspeakable tragedy is awe-inspiring. A particularly boisterous constituent of the proverbial peanut gallery, Charlie is more easily defined by what it's against—religious fundamentalism, political corruption, literary pomposity, and, yes, racism—than what it's for. One admirer of the newspaper has described its broad philosophy as "anti-asshole." To the ranks of the assholes we can now add 204 writers.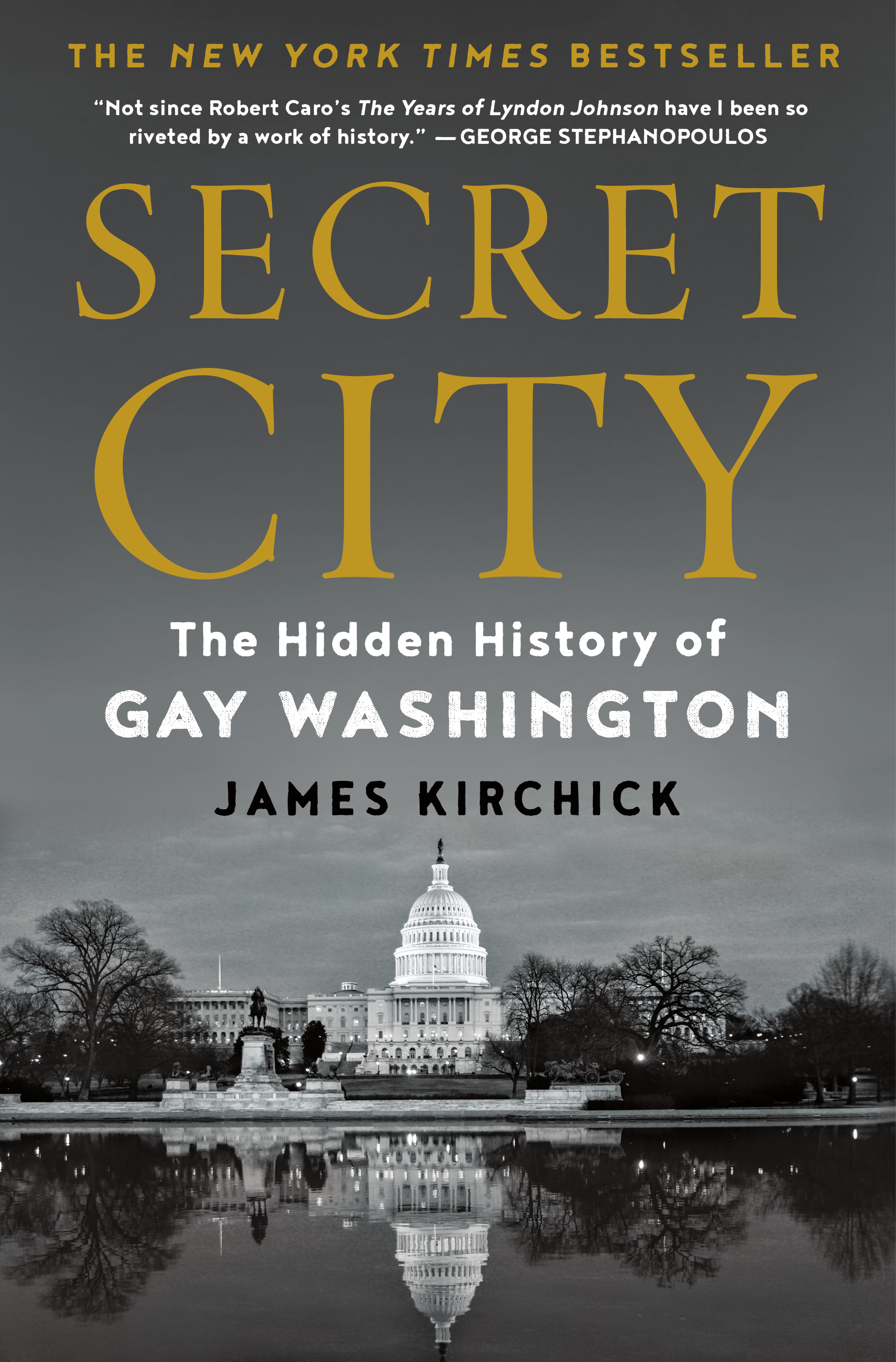 The Hidden History of Gay Washington