They Backed Boris
On the hustings with Boris Johnson, London's unlikely mayor.
London
"They want a shot of me with the carcasses," Boris Johnson says, visibly annoyed with the cameramen and reporters surrounding him like a rugby scrum. We're standing in the middle of Smithfield's, a giant meat market in northwest London. One of the photographers asks the husky Johnson to punch the hanging beef "like Rocky." He won't do that, but as a compromise, he dons a white smock like the cockney-accented butchers who cheer him as he walks by, grips a carcass, and smiles for the cameras.
The tension between Boris Johnson the man who must restrain himself to meet expectations of what constitutes a "serious" political leader, and Boris Johnson the man who has a witty take on the world and can't help himself from sharing it with others, is visible this rainy morning. When a television producer asks if she can attach a lapel mic to his suit for the duration of his tour, he pointedly brushes her hand away with a "No thanks." Yet minutes later, he gets laughs from the supervisor showing him around the facility when he remarks aloud, "I've never seen so much tripe in my life, other than in the Livingstone press office," a reference to his opponent, the incumbent London mayor Ken Livingstone. The night before, visiting an East London mosque, he made light of the Livingstone administration's token contribution to the European Space Agency. Borrowing a line from Mike Huckabee, Johnson said that the only justification for such funding would be to send Livingstone into the cosmos.
Boris Johnson is one of the most recognizable figures in British politics, second perhaps only to Prime Minister Gordon Brown. A recent poll conducted for the Conservatives found that, aside from the party's current leadership, the two figures most commonly associated with the Tories are Margaret Thatcher and Johnson. His "shock" of blond hair is but the most superficial reason for his celebrity. A professional journalist, he first entered the British public consciousness a decade ago as a regular panelist on the television quiz show Have I Got News for You? Johnson went into Parliament as a conservative in 2001–though he decided to relinquish his seat after winning the mayoralty on May 1. The enduring image of Johnson, an avid cyclist, involves him sloppily dressed in a suit, riding a bike with one hand on the handlebar with the other pressing a cellphone to his ear.
He is a man known more for his sense of humor–and propensity to commit the sort of gaffes that would have ruined even the most resilient of American politicians–than for any legislation or policies he has proposed (his contention that accusations of his carrying on an interoffice affair while editor of the Spectator magazine were an "inverted pyramid of piffle" has achieved "I did not sleep with that woman" status in the British political lexicon). A week with him on the campaign trail made it evident how he was–in the words of one bystander in posh Kensington–"cheering up London."
Though he's given up journalism for politics, Johnson will always have the writer's desire to narrate what he sees in the world around him. He has an internal monologue that can't be shut off. Out campaigning one afternoon, a red doubledecker bus passes by. "Wave to the bus, Boris!" one of his supporters said. He waves and smiles. And then in a voice just faintly above a whisper, that only I can hear standing right next to him, he mutters, "London commuters. Doleful. Angry."
On the trail, Johnson was a bursting ball of energy, so exuberant that he doesn't pay attention to where he is going, evidenced by his campaign aides telling him, at least half a dozen times in the course of a half hour on the streets of Kensington, to slow down or that he was going in the wrong direction. "Forward, forward, forward!" belts Johnson as he marched down the main drag. Everything with Boris is larger than life. He promises to build "loads of housing." Is he qualified to be mayor? "Supremely." When a smiling passerby clasps his hand and tells him "it's a pleasure to have a candidate with personality!" he responds, "We have gobs of that!"
One of the complaints that many fans of Boris made during the electoral campaign was that the "old Boris"–the one who made jokes, was a bit of a rogue, and got himself into trouble with authority–had disappeared. "I hope you get your sense of humor back," one supporter told him on the trail. "There is no distinction between the old Boris and the new Boris," he said, with the passion of a statesman, in response to a journalist asking where the "old Boris" had wandered. "They are indivisible, co-eternal, consubstantial." If he wasn't being funny enough on that particular morning, it's because "You're talking to me before I've had a cup of coffee."
The test for Johnson will be whether he is able to balance his sense of humor and relish for cracking jokes with the responsibilities of governing. For all of his faults, Livingstone did lead the city admirably in response to the July 7, 2005, subway bombings, and some wonder whether anyone would take Johnson seriously in the event of another attack. Johnson's passion for saying and writing what he thinks–a true journalistic zeal–may prove nettlesome while governing a diverse city of 7 million people, in an age when every "community" easily takes offense at unintended slights. One thing is certain: Johnson has the country's rapt attention as he tries to cement his managerial bona fides.
The London mayoral race brought a taste of American-style politics to the mother country. In the U.K., members of Parliament run in constituencies like American congressional districts. But except in the most extraordinary of cases (for instance, when an MP is involved in the sort of scandal on which a challenger can mount a recall campaign), Britons choose their MP based on party preference as they know that their local vote will ultimately determine which party forms the next government and thus, a vote for an MP is akin to a vote for a prime minister. Rather than a verdict on a candidate's individual positions, merits, and faults, parliamentary elections are referendums on overall party performance.
The mayoral election presented British voters with an opportunity to vote for an individual rather than a party. Emblematic of this was the introduction into English political discourse of that time-old, American political calculus of asking the electorate which candidate they'd rather have a beer with. The London Times polled focus groups to imagine the candidates at a pub. Voters "imagined [Livingstone] in a suit, ordering a beer and not talking to anyone." Johnson, however, "would be colourfully dressed, order a gin and tonic and talk freely to all." This anecdote is demonstrative, in its small way, of Johnson's ability to cut across the class lines that have traditionally divided British politics. "Where Ken stands for fragmented grievance," Spectator editor Matthew d'Ancona wrote in an endorsement of his former boss, "Boris stands for shared aspiration."
So an election uniquely tailored to highlight candidates' personalities could not have had two more eccentric individuals participating. (That Livingstone and Johnson are both estranged from their national parties–thanks to their various and sundry extracurricular activities–further added to the sense that this was a personality contest.) David Aaronovitch, a columnist for the Times of London, told me that the mayoral election was a contest between "updated, modified stereotypes" of modern British political personalities. If Boris is the classic upper-class character out of P. G. Wodehouse, then Ken Livingstone is the caricature of an aging Marxist revolutionary. A common observation made by journalists covering the race was that this was the first time in British politics that the candidates were known merely by their first names: "The Boris and Ken Show." Indeed, Livingstone's team grew so frustrated with Johnson's popular appeal that any staffer who referred to him as "Boris" was fined £5.
Viewed as a battle of titanic personalities, the London election harked back over 40 years to an American mayoral race. In 1965, conservative intellectual, bon vivant, and all around polymath William F. Buckley Jr. ran for mayor of New York City against the machine Democrat Abe Beame and the handsome, smoothtalking Rockefeller Republican John Lindsay. Like Buckley, Johnson was painted as a Neanderthal by his opponents, yet brought considerable intellect and wit to the campaign trail. Both men introduced a welcome air of levity to the normally staid world of politics. Yet while Buckley did not come even close to winning the mayor's race, Johnson emerged victorious. Even he seemed like he couldn't actually believe what was happening. "He may only have realized the extent of the job after he accepted the nomination," a prominent Tory told me. Watching Johnson make his acceptance speech, I half-expected him to demand a recount.
Electioneering for the London mayoralty was humbling. When he was a columnist for the Daily Telegraph and editor of the Spectator, Johnson opined on such grave issues as the Iraq war and the case for impeaching Tony Blair. Campaigning on the minutiae of municipal government wasn't easy for a man who used to write a luxury motoring column for British GQ and produced a two-part series on the Roman empire for the BBC. Debates on the hustings were dominated by arguments over the merits of "bendy-buses," which Livingstone introduced in 2001, over an updated version of the beloved Routemaster, the double-decker behemoth with an open-air door and conductor at the back. "I think we should allow cyclists to turn on red," Johnson told one fellow biker during his canvassing in Kensington.
Mundane as the affairs that dominate municipal governance may be, as mayor of London, Johnson will have a significant national–not to mention international–role. Although only in existence since 2000, the office, given the capital city's sheer size in relation to the rest of the country and its role as an international financial capital, is one of the highest profile political positions in Britain. The mayor has a lot of money at his disposal and a bully pulpit (as Livingstone so ably demonstrated during his two terms in office, using it to broadcast his vociferous opposition to the Iraq war and to label President Bush "the greatest threat to life on this planet that we've most probably ever seen"). Provided Johnson performs his duties reasonably well and wins a second term, he may have the chance to make the case for becoming leader of the Tories and a potential prime minister.
Livingstone's campaign strategists knew it would be easier to scare voters away from Johnson if they could portray him not as some shambolic idiot incapable of running a magazine (never mind a city), but as a nefarious right-winger intent on dragging London back 150 years. Steve Norris, a former Tory cabinet minister who ran for mayor in 2000 and 2004, described Livingstone's campaign message thus: "If you don't vote for me you will get Boris Johnson who is a racist fascist who loves Margaret Thatcher who destroyed London." I saw Livingstone describe Johnson as a "genuine 19th-century liberal who believes in the least government possible." At a debate entitled, "Does Ken Deserve a Third Term as Mayor of London?" historian Tristram Hunt attempted to place the mayoral race in transcendent historical context with Livingstone as a progressive in the mold of a Fabian Society intellectual and Johnson playing the part of a laissez-faire Victorian who believes that private charity ought be the only recourse for the poor. Listing all of the wonderful improvements by socialist governments past, Hunt ominously warned, "All this is at risk if Boris wins."
To paint Johnson as a far-right figure, Livingstone staffers dug up a 2002 column he had written for the Telegraph. It would form a key talking point for the duration of the campaign. As Johnson later explained, the column was intended to mock Tony Blair's frequent visits to Africa as "a spoof of a 1950's-style account of a Commonwealth tour," describing for readers the "watermelon smiles" of "tribal warriors" and "flag-waving piccaninnies." The use of such language might have been insensitive, as Johnson readily admitted and apologized for, yet it was hardly the stuff of the whites-only British National party, as Livingstone and his allies in the media attempted to cast it.
Ultimately, the effort by Johnson's critics to portray him as a bumbling clown on the one hand and a nefarious racist on the other collapsed under the weight of its own inherent contradictions. Johnson manifestly isn't a racist and in person seems like he couldn't impersonate one even if he tried. Campaigning throughout London, Johnson frequently reminded audiences that his great-grandfather, a Turkish journalist named Ali Kemal, "knew the Koran off by heart." At a BBC debate, answering a question about his remark several weeks earlier on an Asian-themed talk show that he could "out-ethnic" the presenter, Johnson said, "My own genetic diversity is pretty great and my children resemble a kind of U.N. Peacekeeping force" (Johnson's mother-in-law is Sikh).
The sheer silliness of the "Boris is a racist" argument was crystallized for me on my way to the Tube station in Kensington. Outside stood a young man of South Asian descent wearing a "Back Boris" T-shirt passing out leaflets to passersby while calling out "Boris for mayor!" Just a few feet away, a white man of similar age, dressed to the punk nines, was sitting on a pedestal interrupting him with shouts of: "Boris is a racist!"
"No he's not," the Asian man shot back.
They contradicted each other for a minute, until the Asian man demanded that the white man "Say it to my face." The white man did just that, loudly calling Johnson a "racist" and repeating the familiar charge about "piccaninnies" and "watermelon smiles" with less than a hair's breadth between him and his pro-Boris counterpart. The Asian man replied, "Racism is a very serious issue," accusations of which are "not to be thrown around all willy-nilly."
Johnson fought back with insults of his own. He taunted Livingstone as "Mayor Leavingsoon" and as a man who "emerged from the bowels of the Labor government." The words "sleaze" and "cronies" featured prominently (as did the phrase "Tammany Hall," yet another example of the Americanization of the mayoral race). Unlike Livingstone's charges of racism, however, these accusations, while harsh, were not unfair. In January, a television documentary showed how Livingstone had bestowed high-paying, municipal jobs on a coterie belonging to a far-left splinter group, Socialist Action, with which Livingstone has long been associated. Two months later, a senior aide to Livingstone resigned after accusations arose that he was funneling public monies to sham charities operated by his friends and, in one case, a woman to whom he had sent salacious emails.
In a campaign with many absurd moments, the height must have been when Livingstone was asked about how his original estimate of £4 billion in costs associated with hosting the 2012 Olympics was recently deemed "entirely unrealistic" by a government body. Livingstone confessed that the underestimate was a deliberate attempt to get the British government to invest billions of pounds in the blighted neighborhood of East London, and that, frankly, Livingstone didn't care all that much about "three weeks of sport." "It wasn't a mistake. .  .    . It was exactly how I plotted it to ensnare the government to put money into an area it has neglected for 30 years," he explained. The actual price tag for Britain's hosting the Olympics is expected to surpass £10 billion.
Livingstone looked perpetually tired and worn out on the campaign trail, in contrast to the effervescent Boris, whose eyes bulge out of his head whenever he speaks. The same documentary that detailed the excesses of Livingstone's city hall also showed him drinking whiskey at numerous meetings, sometimes early in the morning. I realized Livingstone had resigned himself to defeat when, at a debate sponsored by the U.K. Evangelical Alliance, I saw him sipping a glass of wine in full view of a BBC cameraman and later carrying it up to the table.
One of the delights of the Johnson victory has been the spectacle of Britain's left-wing mandarins venting their outrage and frustration. The day of the election, the Guardian printed a collection of quotations from Londoners–"some famous, some not"–"imagin[ing] what it would be like if this bigoted, lying, Old Etonian buffoon got his hands on our diverse and liberal capital." The fashion designer Vivienne Westwood stated that a Johnson mayoralty would expose "democracy as a sham." Charlie Brooker, a Guardian columnist, remarked, "I'd sooner vote for a dog than Boris Johnson. Cartoon characters should only run cartoon cities." (A similar observation was expressed to me by a Liberal Democrat, who said, "Boris will turn London into a Roald Dahl novel.") Minutes after the election results were officially announced, one Guardian writer took to the newspaper's website with a bitter lament entitled "Enter the Jester." Meanwhile, more optimistic Londoners wait with bated breath to see if Johnson's 2003 promise that "if you vote for the Conservatives, your wife will get bigger breasts, and your chances of driving a BMW M3 will increase," might, in actual fact, materialize.
Johnson's reputation as a "buffoon" or a "clown"–words often seen in the same sentence as his name–derives as much from his gaffes as it does from the simple fact that politicians, even in the U.K., are by and large an unfunny bunch. A sense of humor is so rare amongst the political class that Johnson's wit is judged to be a liability and a character failure, rather than the refreshing elixir that it actually is. In his biography of Johnson, the Daily Telegraph journalist Andrew Gimson pointed to a column he wrote about a visit with Italian politician Silvio Berlusconi. Johnson observed that Italians "like him not in spite of the gaffes, but because of the gaffes. It is Berlusconi's genius that he has become the only world leader in the great queue of grey-suited line-toers who can be consistently relied on to say something eye-popping." Johnson might as well have been writing about himself.
At the end of the day, perhaps it was sheer force of personality that won the election for Johnson. He has a humility–knocked into him during numerous public shamings–that Livingstone lacks. He's a man who has taken his lumps and knows how to deal with adversity in a more respectful manner than the dirigiste he defeated. Neil Kinnock, a former Labour party leader who wrestled with Livingstone decades ago to prevent the party's being hijacked by the left, famously remarked, "Everybody likes Ken Livingstone except the people who know him."
Although the vast majority of Londoners don't know Livingstone personally, they had the opportunity to learn enough about him over the course of his eight years as mayor. By contrast, Steve Norris told me that, "The only people who don't like Boris are the people who haven't met him." If that's true, then Johnson has ample opportunity to further his national political ambitions during his tenure.
In a country whose preeminence on the world stage has come and gone, Johnson is a ray of forward-looking light, a sunbeam of positivism. There is something distinctly American about his energy, ambition, and, most important, his optimism. A prominent Tory summed up what his advice to Johnson would be in the event that he won. "Boris: It's great that you won on personality. But now you gotta govern on competence."
That's the test Boris Johnson now faces. At the very least, his mayoralty will be a joy to behold.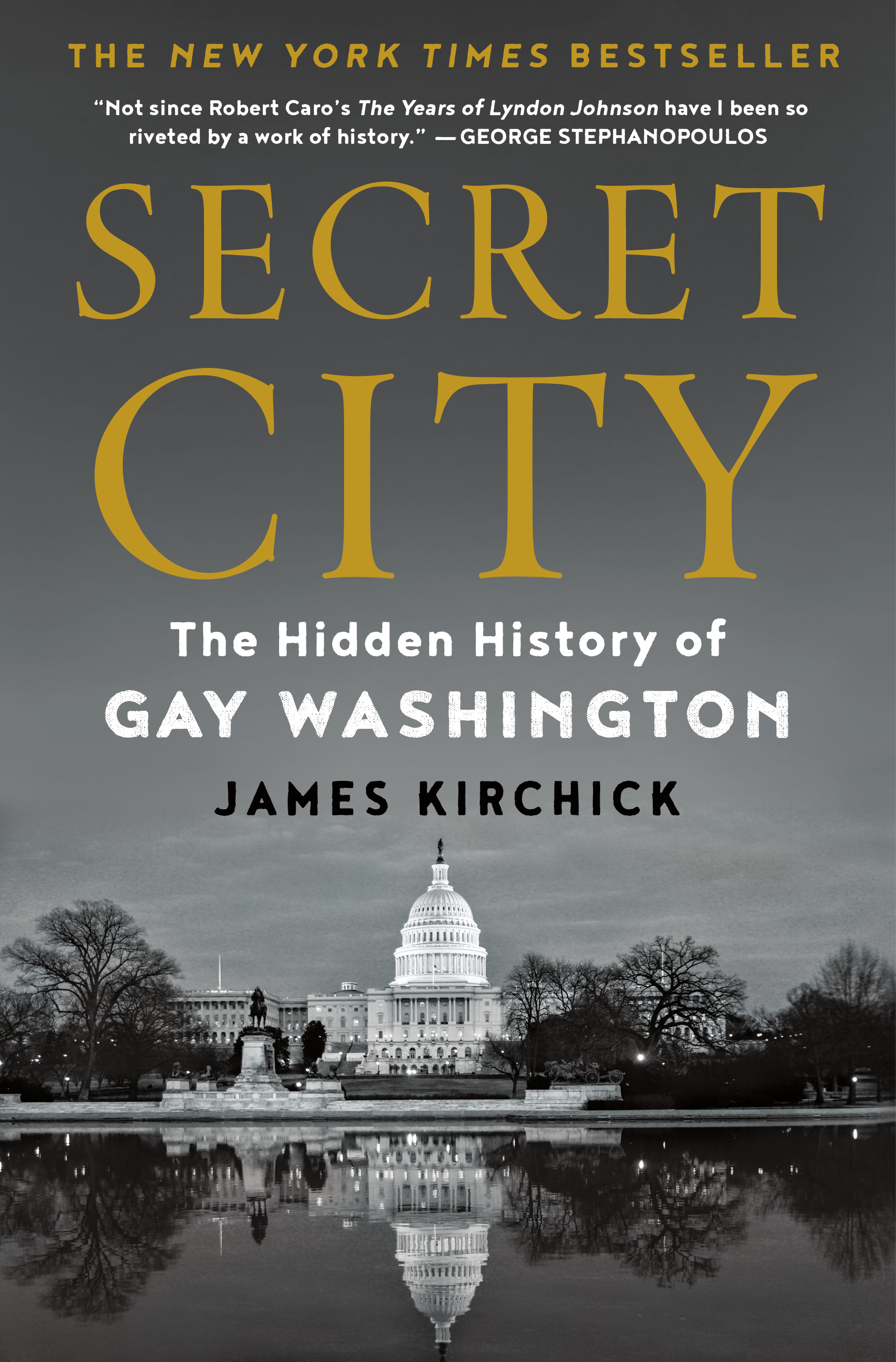 The Hidden History of Gay Washington