How Tyranny Came to Zimbabwe
Jimmy Carter still has a lot to answer for.
In April 1979, 64 percent of the black citizens of Rhodesia (now Zimbabwe) lined up at the polls to vote in the first democratic election in the history of that southern African nation. Two-thirds of them supported Abel Muzorewa, a bishop in the United Methodist Church. He was the first black prime minister of a country only 4 percent white. Muzorewa's victory put an end to the 14-year political odyssey of outgoing prime minister Ian Smith, the stubborn World War II veteran who had infamously announced in 1976, "I do not believe in black majority rule–not in a thousand years." Fortunately for the country's blacks, majority rule came sooner than Smith had in mind.
Less than a year after Muzorewa's victory, however, in February 1980, another election was held in Zimbabwe. This time, Robert Mugabe, the Marxist who had fought a seven-year guerrilla war against Rhodesia's white-led government, won 64 percent of the vote, after a campaign marked by widespread intimidation, outright violence, and Mugabe's threat to continue the civil war if he lost. Mugabe became prime minister and was toasted by the international community and media as a new sort of African leader. "I find that I am fascinated by his intelligence, by his dedication. The only thing that frustrates me about Robert Mugabe is that he is so damned incorruptible," Andrew Young, Jimmy Carter's ambassador to the United Nations, had gushed to the Times of London in 1978. The rest, as they say, is history.
That second election is widely known and cited: 1980 is the famous year Zimbabwe won its independence from Great Britain and power was transferred from an obstinate white ruler to a liberation hero. But the circumstances of the first election, and the story of the man who won it, have been lost to the past. As the Mugabe regime–responsible for the torture and murder of thousands, starvation, genocide, the world's highest inflation and lowest life expectancy–teeters on the brink of disaster after 27 years of authoritarian rule, it is instructive to go back and examine what happened in those crucial intervening months.
To understand the genesis of that oft-forgotten 1979 election, it is necessary to revisit Rhodesia's Unilateral Declaration of Independence in 1965, when the British colony joined the United States as the only territory in history to separate successfully from the British Empire without its consent. Five years earlier, in a speech to the South African parliament, British prime minister Harold Macmillan had warned that the "wind of change" was blowing through Africa. "Whether we like it or not," Macmillan said, "this growth of national consciousness is a political fact." Rhodesian whites would not stand for the British policy of "No Independence Before Majority African Rule," however, and in 1964 they overwhelmingly elected Smith premier. When the Rhodesian government reached an impasse with the British over conditions for autonomy, Smith, widely supported by the country's whites, declared Rhodesia independent. And so, on November 11, 1965, the sun abruptly set on another outpost of the British Empire.
The move was immediately condemned as illegal ("an act of treason") by the British government, the Commonwealth, and the United Nations. Independent Rhodesia was not recognized by any country; even apartheid South Africa sent no ambassador to Salisbury, the capital. Britain and the U.N. imposed economic sanctions, and many Rhodesians worried that an oil embargo would cripple their landlocked country.
Over the next decade there followed a series of failed negotiations between the two sides. The British demanded majority rule, but would consider at most a phased plan that would gradually bring a black government to power. Smith, whose Rhodesian Front party was consistently reelected, would have none of it. He spoke of Rhodesia's defense of "Western, Christian civilization" and out-maneuvered a succession of British prime ministers, who all had to contend with the embarrassing "Rhodesia problem." Somehow, this tenacious little former colony held out against the world's once-great British Empire, busting sanctions, increasing white immigration, and keeping domestic black political opposition at bay with a succession of authoritarian laws that effectively banned political dissent.
Smith's obstinacy played a role in emboldening–and radicalizing–his enemies. The refusal of the country's whites to accept black rule created the vacuum in which leaders like Robert Mugabe, of the Chinese-backed Zimbabwean African National Union (ZANU), and Joshua Nkomo, of the Soviet-supported Zimbabwean African People's Union (ZAPU), emerged. In 1972, these two organizations started a civil war, aiming to overthrow the white regime by force. ZANU and ZAPU viewed Smith as a mortal enemy, but they were hardly more pleasant to each other, in spite of forming an official alliance, the Patriotic Front, in 1976. With rival superpower backers and different staging grounds (ZANU in Mozambique, ZAPU in Zambia), the two groups spent about as much effort fighting for control of the revolutionary movement as they did against the white regime. Both the white government and the guerrillas demonstrated remarkable ruthlessness, and the seven-year Bush war would claim some 20,000 lives in a country of 7 million.
Moderates to the rescue
By 1977, it was clear that change was coming. Aided tremendously by the shuttle diplomacy of Henry Kissinger during the Nixon and Ford administrations (Kissinger enticed the apartheid government of South Africa with promises of greater international legitimacy if it would give the boot to the friendly white regime on its northern border), Smith finally came to accept the principle of majority rule, though with major conditions. He insisted that whites maintain control of key government institutions like the army, civil service, and judiciary. He also required that whites have a disproportionate number of seats in parliament so as to prevent any radical constitutional changes. And Smith ruled out serious land reform.
Despite these vestiges of the old regime, Smith's acceptance of majority rule was momentous: It opened the way for a peaceful transition. For years, Smith had tried to negotiate a settlement with several black nationalist leaders who had renounced violence in their campaigns for nonracial democracy. Primary among them was Muzorewa, a small, American-educated pastor who avoided the internecine fighting that had characterized Zimbabwean resistance politics throughout the 1960s. He was a forthright critic of the government's racial discrimination and had supported civil disobedience and mass protest in the past. The United Nations had honored him for Outstanding Achievement in Human Rights. "If religion just means to go to church and pray, then it is a scandal. The gospel is concerned about where a man sleeps, what a man earns, how he is treated by the government," he told congregants. The other black leaders with whom Smith pledged to work were the Rev. Ndabaningi Sithole, a Methodist founder of ZANU who had been imprisoned for 10 years for opposition activities–including an alleged assassination attempt against Smith–but who had forsworn violence, and Chief Jeremiah Chirau, a tribal elder who had long been amenable to white interests. Smith and his moderate black allies hoped that if a multiracial government could be cobbled together, black African states would withdraw their support for the guerrillas and make way for an anti-Communist black government.
Muzorewa and Sithole, contrary to the patronizing and ugly attacks that would soon come from the Carter administration and the Western left, were not stooges (although Chirau, it should be noted, was funded by the Rhodesian government and depended on it for his status as a recognized tribal leader). Sithole had actually led the guerrilla fight against the white regime until the power-hungry Mugabe deposed him. Muzorewa's speeches regularly drew crowds of hundreds of thousands, and he was widely considered the most popular black political leader in the country. He solidified his antigovernment bona fides when the Smith regime branded him a Soviet lackey (as it did all its opponents) even though he was staunchly anti-Communist. These moderate black leaders were motivated, first and foremost, by a desire to end the bloodshed. By contrast, Mugabe and Nkomo made it clear that their Patriotic Front would not give up the fight and participate in elections unless they were assured of victory. In so doing, the guerrilla leaders removed any doubt that they had no interest in democracy.
African politics, Carter-style
Into this picture stepped Andrew Young. Early in his tenure at the United Nations, Young, a former mayor of Atlanta, displayed a naive, if not baleful, outlook on southern African affairs, remarking that Cuban troops brought a "certain order and stability" to wartorn Angola. Young had earlier called Smith a "monster" and likened him to Uganda's mass-murdering Idi Amin. Nevertheless, Carter made Young his point man on Africa. According to Martin Meredith, a former southern Africa correspondent for the Sunday Times of London, "Young was not, perhaps, the best choice the Americans could have made" for negotiations in Rhodesia. "He had a reputation for being recklessly outspoken on subjects about which he appeared to know little, and Rhodesia was no exception." Time said some State Department careerists thought of Young as an "unguided missile."
In September 1977, the Carter administration announced its "Anglo-American plan," drawn up in conjunction with the Labour government of Prime Minister James Callaghan. The plan called for British administration of Rhodesia backed up by a U.N. peacekeeping force, a constitution ensuring universal adult suffrage, and majority rule by 1978. Majority rule was to be tempered, however, by the reservation of 20 out of 100 parliamentary seats for whites. The proposal also called for the incorporation of ZANU and ZAPU guerrilla units into the new country's army and, more important, the participation of the two nationalist movements in the country's elections. Smith, along with the moderate black leaders, opposed this plan because it would have led to a military dominated by Mugabe and Nkomo's forces.
Instead, Smith came up with what he and his popularly supported black allies termed the "internal settlement." In March 1978, they formed an executive council that would serve as a transitional government until democratic elections were held the following year. This internal settlement called for the promulgation of a new constitution establishing majority rule, but maintaining 28 out of 100 seats in the new parliament for whites. This was not a perfect proposal, but Muzorewa–no doubt expressing the desires of the country's justly impatient black majority–declared that it created "the machinery for dismantling the structure and practices of colonialism and racism and of minority rule." Muzorewa, Sithole, and Chirau understood the economic necessity of keeping the white population engaged in Zimbabwe's future, and hoped that an agreement acceptable to both black and white would discredit the guerrilla groups and help put an end to the Bush war. Eighty-five percent of the country's whites supported the agreement in a January 1979 referendum: The illusion of perpetual white rule was dead. Elections were scheduled for April 1979. Both Mugabe and Nkomo–in spite of their commitment to violence and opposition to democracy–were offered seats on the Executive Council along with the other black leaders but, fearing this would hurt their chances of ever gaining absolute control over the country, they refused.
It was not altogether unreasonable to protect the interests of the white minority, as the functioning of the Zimbabwean economy depended on the skills of educated whites who, by the late 1970s, were fleeing the country at the rate of 1,000 per month. To understand what sort of fate might befall a Rhodesia conquered by Marxist rebels, one had only to look to the former Portuguese colonies of Mozambique and Angola, which, when overthrown in 1975 after the fall of the Caetano regime a year before, witnessed the immediate mass emigration of Portuguese citizens (about a quarter of a million from each country) and the collapse of those nations' economies. In light of these disastrous post-colonial developments, the desire to keep as many skilled whites as possible within Rhodesia after the transition to a black government was not just the selfish concern of the whites themselves; the presidents of African states that depended on Rhodesia for trade understood that white interests would have to be protected for an extended period of time. This was not an unusual consideration; Kenya, Tanzania, and Zambia, former British colonies all, reserved extra parliamentary seats for whites for a transitional period. Alas, it did not stop the three countries from turning into dictatorships.
The 1979 election
The Carter administration, the Labour government in Britain, and the international left all insisted that Mugabe and Nkomo be part of the negotiating process–on its face a concession to terrorism. Presaging the edicts of Al Qaeda in Iraq, both guerrilla leaders pledged violence against any black Zimbabwean who dared take part in the April balloting. Nkomo called for a "bloodbath." A year earlier he had ridiculed the "all party nonsense" advocated by the moderate black leaders and said, "We mean to get that country by force, and we shall get it." Mugabe, not to be outdone, issued a public death list of 50 individuals associated with the internal settlement, including the three black leaders of the executive council. ZANU described these individuals as "Zimbabwean black bourgeoisie, traitors, fellow-travelers, and puppets of the Ian Smith regime, opportunistic running-dogs and other capitalist vultures." Mugabe also expressed his belief that "the multiparty system is a luxury" and said that if Zimbabwean blacks did not like Marxism, "then we will have to reeducate them." This was the same Mugabe whom Young, in that 1978 interview with the Times of London, had called "a very gentle man," adding, "I can't imagine Joshua Nkomo, or Robert Mugabe, ever pulling the trigger on a gun to kill anyone. I doubt that they ever have."
Nevertheless, in April 1979, in a scene reminiscent of the recent Iraqi elections, nearly 3 million blacks came out to vote under a state of martial law and with armed guerrillas actively seeking to disrupt the balloting. Although 100,000 soldiers protected the polling places, 10 civilians were killed by Mugabe and Nkomo's forces. Even so, the election was a resounding success and produced a clear verdict. An overwhelming majority of voters chose Muzorewa to become the first black prime minister of Zimbabwe Rhodesia, as the country was now called.
Sadly, this democratic outcome was a chimera. Muzorewa–spurned by the West, deemed illegitimate by the African dictatorships, and forced to contend with Communist-armed insurgents–would hold power for a mere matter of months. The betrayal of Muzorewa is one of the more craven episodes in American foreign policy.
Liberal international opinion condemned the election before it ever took place. Andrew Young called the interim government "neofascist," and the New York Times editorialized that the election would be a "moral and diplomatic disaster." In March 1979, 185 individuals signed a statement calling it a "fraud" and opined that "free elections require . . . freedom for all political parties to campaign," presumably even parties committed to one-party rule and violence if they do not win. Then, once the election took place, the left discredited it as a charade. A cover story in the Nation by British journalist David Caute, entitled "The Sham Election in Rhodesia," featured a cartoon with a smiling white man in safari outfit holding a gun as sheep with black faces ("electoral livestock," in Caute's words) lined up to vote. Caute likened the new black government to Vichy France.
The appearance of a popularly elected, black-led, anti-Marxist government in Africa confronted Western liberals with a challenge: Would they accept this interim agreement, widely endorsed by the country's blacks, as a step on the path to full majority rule, or would they reject the democratic will of the Zimbabwean people in favor of guerrilla groups that supported Soviet-style dictatorship? Caute at least had the honesty to admit that "Mugabe, indeed, openly espouses a one-party state and makes no secret of the fact that any election won by ZANU would be Zimbabwe's last."
Bayard Rustin, the black civil rights leader who had been the chief organizer of the 1963 March on Washington and the national chairman of the Social Democrats USA, observed the April election as part of a Freedom House delegation. A founder of the Committee to Support South African Resistance, Rustin was outraged at the response of those on the left. "No election held in any country at any time within memory has been more widely or vociferously scorned by international opinion than the election conducted last April in Rhodesia, now Zimbabwe Rhodesia," he wrote in Commentary. The Freedom House delegation, whose members had previously monitored elections in 26 countries, interviewed over 600 black voters and visited more than 60 polling stations throughout the country. Rustin determined the elections to be "remarkably free and fair." Even the Nation editorial board conceded that the elections had "undeniably mobilized a genuine outpouring of sentiment for peace among black Rhodesians." The New York Times, like Mugabe and Nkomo, however, did not care about the democratic means employed, only the end result. "The real issue is not how the election was conducted, but what it was about," the Times intoned, snidely referring to the black political organizations participating in the elections as the "collaborating parties."
"The contrast between how the election was viewed by most Zimbabweans (the name preferred by blacks) and how it was described by critics outside the country is nothing less than extraordinary," Rustin wrote. With the United States openly deferring to the wishes of ZANU, ZAPU, and their enablers among the African tyrannies, Rustin said, "We have found ourselves, until now, tacitly aligned with groups armed by Moscow, hostile to America, antagonistic to democracy, and unpopular within Zimbabwe Rhodesia itself." Rustin appropriately referred to the Patriotic Front as a "paper political alliance" that claimed not only a base of popular support it did not have, but also, and more ominously, a natural right to everlasting power it certainly did not merit. Rustin was hardly the only liberal supportive of the interim government; it should be noted that accompanying him on the Freedom House delegation was the former U.S. ambassador to the United Nations Human Rights Commission, Al Lowenstein (the founder of the 1968 Dump Johnson movement), who aggressively lobbied Congress to support the nascent, democratic Zimbabwe Rhodesia.
After the election, the Patriotic Front continued to wage war on the new multiracial government, which proceeded to defend itself with an army and police force that were, respectively, 85 percent and 75 percent black. But the government also extended an olive branch to the guerrillas in hopes of achieving a ceasefire and promised that any and all guerrillas willing to put down their guns would have a "safe return" to civilian life without fear of punishment. Would the guerrilla groups maintain their campaign against Zimbabwe Rhodesia now that a black prime minister had been elected? The government got its answer in May. Four of Prime Minister Muzorewa's envoys to the guerrillas were seized by Mugabe's forces, displayed before 200 tribesmen, and shot as an example of what would become of those who negotiated with the new black government. Six weeks later, 39 representatives of Rev. Sithole were also murdered.
The question remained of how the United States would relate to the new democratically elected black government. In 1978, Congress had passed the Case-Javits Amendment, which compelled the president to lift the sanctions on Rhodesia (in place since a 1966 U.N. Security Council resolution) if the regime held free and fair elections and showed a good-faith effort to negotiate with guerrilla leaders. Undoubtedly, the April 1979 election and the interim government's invitation to the Patriotic Front to participate met these conditions. Appropriately, two weeks after the election, the Senate passed a nonbinding resolution 75-19 calling on the Carter administration to lift sanctions. Unable to challenge the validity of the Zimbabwe Rhodesia government on the merits as stipulated by Congress, Carter persuaded congressional allies to pass a new bill that would allow him to maintain sanctions in order to protect America's national interests in Africa, which he believed would be threatened if the United States recognized a government not favored by the thugs and tyrants on the continent.
In July, Muzorewa came to the United States determined to "remove the blindness" of the Carter administration. He said that there were "some people who are sick in the head in the international world" for maintaining sanctions against a country that had transitioned peacefully from white power to majority rule. Muzorewa was far too sanguine about his ability to persuade Jimmy Carter and Andrew Young; their blindness was incurable. In October, all four members of the Zimbabwe Rhodesia executive council traveled to the United States to plead for recognition, and Carter refused to meet with them. Disappointed by the West's rebuff, Muzorewa noted that while Zimbabweans "are prepared to forget the past and work together with our white brethren, . . . some people in Britain, America, Africa, and other parts of the world appear unwilling to allow us to do so."
Of the election that had catapulted Muzorewa to power, Martin Meredith wrote, "However much disappointment there was with a constitution which entrenched white privilege, the opportunity to vote for a black leader who promised peace was worth having." But as Muzorewa immediately discovered, to the Carter administration, no government without Robert Mugabe in charge was worth having.
The shame of 1980
Ultimately, what guided the thinking of the British and the Americans was the fear that siding with Muzorewa and other black moderates over Mugabe would alienate black African states and thus imperil Western diplomatic objectives in sub-Saharan Africa. Because of a narrow Cold War calculus insistent on the notion that black Africa be prevented from turning pro-Soviet (at least those states that were not already in the Soviet camp) and a postcolonial guilt that awarded moral superiority to the first generation of African leaders (many of whom were no better, and in some cases worse, than their colonial oppressors), the pronouncements and interests of the African states weighed far too heavily in the Carter administration's foreign policy.
But the decision to oppose the internal settlement was faulty for two reasons. First, if the United States and Britain had supported the pact, there is no telling what further diplomatic pressure they might have brought to bear on Smith to wrangle more concessions for the country's black majority. Western support for the internal settlement would have elevated Muzorewa's standing as a legitimate black leader and thus further deprived the guerrilla groups of the ideological oxygen needed to sustain their war. And with Western backing, Muzorewa would have been better equipped to convince his African neighbors to end their support for Mugabe and Nkomo. In 1978, Chester Crocker (who would later serve as Reagan's assistant secretary of state for African affairs) wrote in the pages of the New Republic that, "given the weak, war-torn economies and minimal military strength of its neighboring states, a black Zimbabwe government which issued from the internal talks would have a good opportunity to establish itself." Sadly, because of misguided Western policy, that black government never had a fighting chance.
Second, the Carter administration's preening before black African countries was morally bankrupt. Few of the nations that made up the pro-Patriotic Front Organization of African Unity showed much concern for democracy; it was quite rich to see presidents Julius Nyerere of Tanzania and Kenneth Kaunda of Zambia, both of whom had instituted one-party rule soon after independence, giving instructions on democracy to America and Britain. The military dictatorship of Nigeria, threatening to cut off oil to the United States, had the audacity to term one of the rare African democracies "the outcast puppet regime of Bishop Abel Muzorewa." The one-party, pro-Soviet dictatorship of Mozambique (host to Mugabe) offered similar invective. Rustin aptly wrote that "if the presidents of Zambia, Mozambique, Tanzania, and Angola have their way, majority rule will take a form more or less similar to what exists in their own countries; which is to say that it will be a dictatorship by a small black elite over a destitute black population." In response to Carter's refusal to accept the legitimacy of the April 1979 election, the Washington Post editorialized that the administration was "ignoring fairness and impartiality in order to court those black African states, mostly petty dictatorships or paper democracies."
And so the guerrilla war against Zimbabwe Rhodesia went on unabated. His country laboring under continuing sanctions, Muzorewa could do little to reassure the black population that he had the ability to bring the peace he had promised. Demoralized by the rejection of Great Britain, the United States, and their African neighbors, the leaders of Zimbabwe Rhodesia agreed in late 1979 to a new set of negotiations to be held at Lancaster House in London, in which the Patriotic Front would participate. The agreement that emerged was essentially the same as the internal settlement, except that it reduced the number of white parliamentary seats from 28 to 20, established a land reform policy of "willing buyer, willing seller" funded by the British and Americans, and, most fatefully, allowed ZANU and ZAPU to participate in a new election, to be held in February 1980.
If the international community had rejected the 1979 election, it should have been utterly disgusted with the one held less than a year later. Mugabe insisted that the two wings of the Patriotic Front run separately; he knew that with 75 percent of the country's blacks belonging to his Shona tribe, he would be catapulted into power and could shunt Nkomo (a member of the Ndebele tribe) to the sidelines. Lord Christopher Soames, charged by the British with overseeing the election, found, according to Meredith, that "the scale of intimidation in eastern Rhodesia [bordering Mozambique, which had sheltered Mugabe's ZANU guerrillas] was massive. . . . The mere presence of Mugabe's guerrillas in the villages was enough to deter the local population from showing support for any party other than ZANU." ZANU apparatchiks once again compiled "death lists," making clear to black servants and local tribesmen that they would pay the consequences for not supporting Mugabe.
In the weeks leading up to the February election, the British Combined Operations Headquarters was informed of at least one political murder every day. Ultimately, Soames's election observers concluded that in five of Rhodesia's eight electoral provinces, "conditions for a free election no longer existed." Both Muzorewa and Nkomo demanded that Mugabe not be allowed to participate in the elections, but, fearing that any rebuke to Mugabe would restart the guerrilla war, the British and American governments insisted on his participation. In an early indication of what sort of ruler he would become, Mugabe demanded that a Kalashnikov rifle be the ZANU election symbol. At least the interim British administration rejected this ominous request.
To top matters off, Mugabe announced in advance that he would abide by the elections only if he won. According to Martin Meredith, throughout the Lancaster House negotiations, Mugabe's "real fear, as it had been all along, was that a negotiated settlement threatened his aim of achieving revolutionary change in Rhodesia." Mugabe finally agreed to the British terms only because the African leaders could no longer put up with the consequences of the Bush war (during the conference, Smith's army bombed crucial railways in Zambia and Mozambique) and because Nkomo went along with the settlement, isolating ZANU. Everything in Mugabe's history indicates that if he had lost the 1980 election, he would have reverted to war. For Rhodesia's beleaguered blacks–who had suffered more than anyone else not only from the oppressive counterinsurgency operations of the white minority government but also from the unforgiving tactics of the guerrillas–the threat of a worsening, protracted civil war all but assured victory for Mugabe.
The election result was announced on March 4, 1980.Mugabe took 64 percent of the vote, with over 90 percent of eligible blacks voting. No doubt the higher participation in 1980 had to do with the fact that, in contrast with 1979, guerrillas did not violently suppress turnout. Nevertheless, British election commissioner Sir John Boynton reported that death threats, the murder of candidates and their supporters, property destruction, violent intimidation, and, most portentously, the threat of continued war all occurred with disturbing frequency in the two-month campaign. Mugabe's forces were responsible for 70 percent of ceasefire violations.
And lest anyone doubt that Mugabe was the favorite of the front-line states that had aided him in his war against Muzorewa, he left the country during the balloting for meetings with the leaders of Mozambique and Tanzania, a presumptuous act for a would-be president. In the midst of the election, Mugabe announced he would "seek the aid of our friends in Africa if needs be." Freedom House found that "the open or implicit threat by the formerly externally based parties [ZANU and ZAPU] that they would renew the insurgency should they not win represented an important indirect form of intimidation" and that "threats by black and white African states of nonrecognition or intervention in the event of particular electoral outcomes were an external form of intimidation."
The Carter administration had declared that though the 1979 election of Muzorewa had been conducted in a "reasonably fair way," it did not merit the United States' support because Mugabe was not involved. The 1980 election, on the other hand, which Mugabe won largely by threatening violence, the Carter administration declared to be "free and fair," leading to the lifting of sanctions. Mugabe, it seems, would have liked to return the favor. In 1980, mere months before Carter would resoundingly lose his reelection bid to Ronald Reagan, Zimbabwe's new prime minister told African-American leaders at a White House ceremony that if Carter "were running in our territory, he would be assured of victory."
The defeat of Muzorewa and the triumph of Mugabe cast the West's Rhodesia policy in stark relief: If Muzorewa had chosen Marxist revolution over diplomacy and had endeared himself to African dictators, he would have won Western support. Critics of Muzorewa alleged that his inability to stop the civil war during his brief tenure as prime minister demonstrated ineffectual leadership. In fact, it reflected the determination of Mugabe and Nkomo to keep fighting until they secured power for themselves. The United States and Great Britain gave Mugabe and Nkomo legitimacy by indulging the demands of the African dictators.
Muzorewa warned what would happen if Mugabe won: "Any talk of democracy, freedom, and independence will be turned into an impossible dream. . . . This country will find itself wallowing in the dust of poverty, misery, and starvation." To Mugabe's Western enablers, particularly Andrew Young, this must have seemed like the jealous sniping of a man who had been turned out of office. Yet from the vantage point of 2007, Muzorewa's prescience is plain for all to see.
Tyranny sets in
The Carter administration's victory in Rhodesia was a hollow one. It is true that not every fearsome forecast was immediately borne out: Mugabe did not turn out to be the Soviet or Chinese agent many thought him, and the conflagration raging in Angola did not spread into Zimbabwe. But fatal damage was done. As early as August 1981, just over a year after taking power, Mugabe called for a referendum on whether Zimbabwe should be a one-party state. In 1982 he proclaimed, "ZANU-PF will rule forever," just as he had promised throughout the Bush war. And writing in the New Republic in early 1983, Xan Smiley, an editorial writer for the London Times, reported that Mugabe's "rhetoric of egalitarianism and the demands of traditional authoritarianism mean that individuals are going to get crushed." Not just individuals, but whole groups of people would be crushed. From 1983 until 1987, Mugabe unleashed his North Korean-trained Fifth Brigade troops against supposed Ndebele plotters in the Matabeleland massacres, slaughtering an estimated 25,000 people.
The country's black leaders who dared to oppose Mugabe received the treatment inevitably meted out by a paranoid tyrant. In 1983 Mugabe jailed Muzorewa for 10 months, accusing him of plotting with South Africa and Israel to overthrow the regime. He now lives quietly in Zimbabwe, ignored by the world that spurned him nearly 30 years ago. The same year Nkomo, Mugabe's erstwhile ally, fled the country fearing assassination. Mugabe persuaded his old comrade to return and in 1987 forced him to agree to a virtual one-party state, in which ZANU absorbed ZAPU and took 147 out of 150 seats in parliament. Nkomo spent the next 12 years of his life in obscurity. Also in 1987, rightly fearing for his safety, Sithole sought political asylum in the United States. He later returned to Zimbabwe and was elected to parliament. But in 1997, Sithole was convicted of attempting to assassinate Mugabe and was barred from returning to office. Other political opponents either fell into line or have been imprisoned or killed.
For some years, Mugabe kept his promise to leave the whites alone. But in 2000 he instigated the forcible seizure of private farmland, which has brought Zimbabwe economic collapse, famine, and a massive refugee crisis. One-third of the country's population is estimated to have fled in the past seven years. The dictator, now 83, having brought his country to its knees, is hanging on only by the support of his armed forces and his fellow African leaders, who share a residual admiration for this hero of African "liberation."
Carter is unrepentant about his administration's support for Mugabe. At a Carter Center event in Boston on June 8, he said that he, Young, and Secretary of State Cyrus Vance had "spent more time on Rhodesia than on the Middle East." Carter admitted that "we supported two revolutionaries in Zimbabwe, Robert Mugabe and Joshua Nkomo." He adopts the "good leader gone bad" hindsight of Mugabe's early backers, stating that "at first [Mugabe] was a very enlightened president." While conceding that Mugabe is now "oppressive," Carter stressed that this murderer of tens of thousands "needs to be treated with respect and assured that if he does deal with those issues [democratization and human rights], he won't be punished or prosecuted for his crimes." Though it has supervised elections in over 60 countries, the 25-year-old Carter Center has no projects in Zimbabwe, nor has Carter (who demonstrates no compunction about lecturing others) attempted to atone for the ruin that his policies as president wreaked.
History will not look kindly on those in the West who insisted on bringing the avowed Marxist Mugabe into the government. In particular, the Jimmy Carter foreign policy–feckless in the Iranian hostage crisis, irresolute in the face of mounting Soviet ambitions, and noted in the post-White House years for dalliances with dictators the world over–bears some responsibility for the fate of a small African country with scant connection to American national interests. In response to Carter's comment last month that the Bush administration's foreign policy was the "worst in history," critics immediately cited those well-publicized failures. But the betrayal of Bishop Muzorewa and of all Zimbabweans, black and white, who warned what sort of leader Robert Mugabe would be deserves just as prominent a place among the outrages of the Carter years.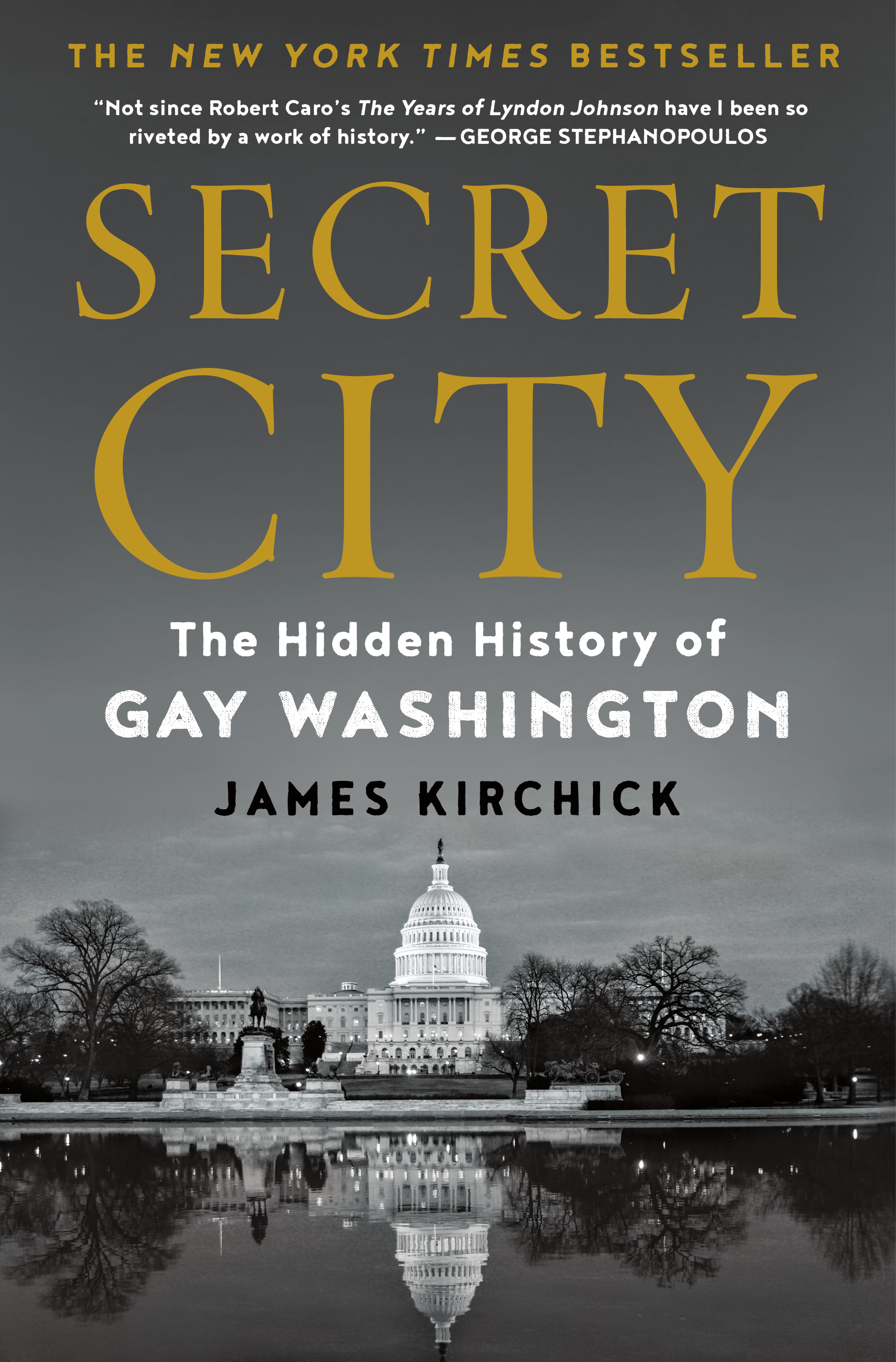 The Hidden History of Gay Washington