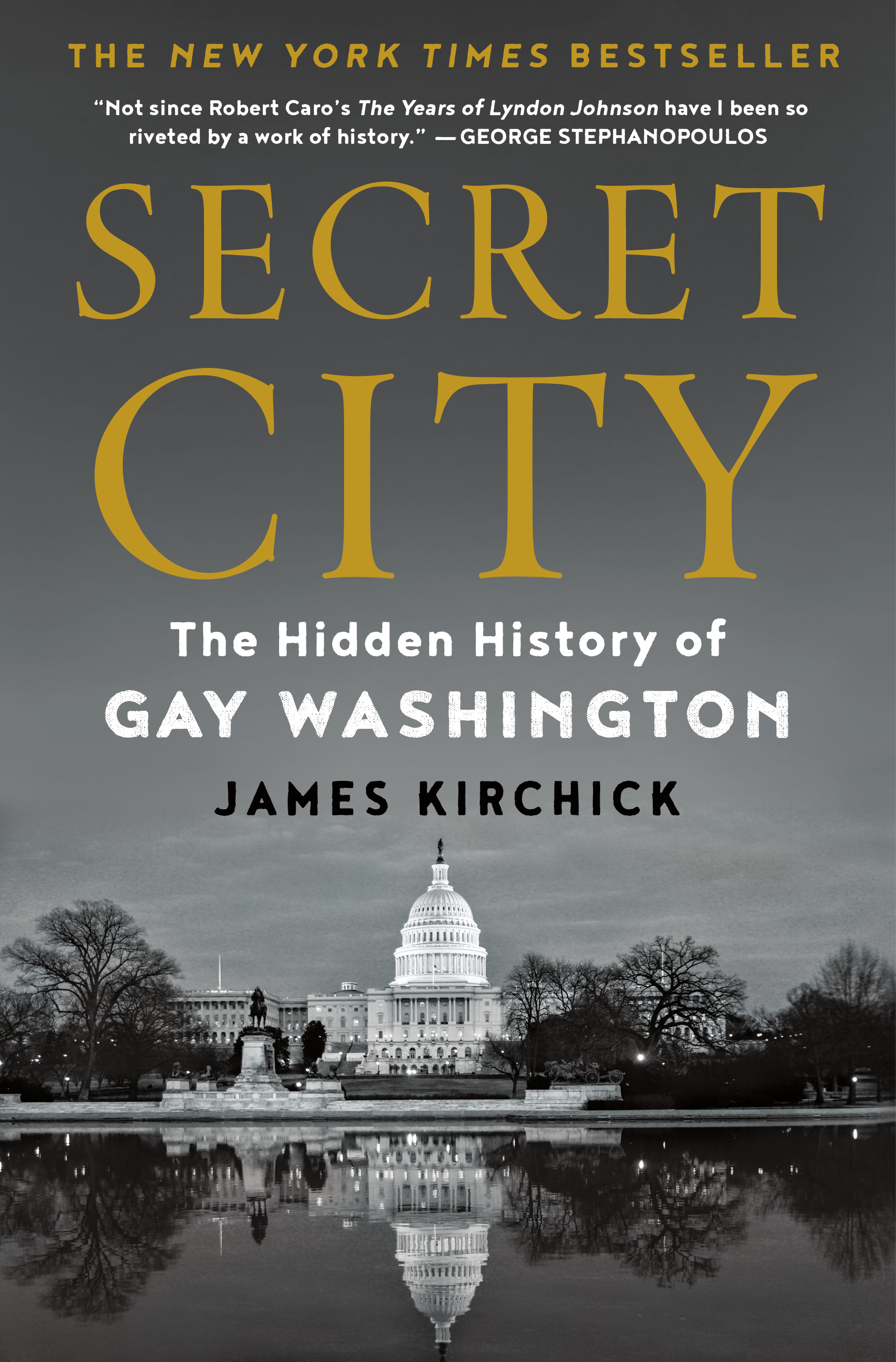 AN INSTANT NEW YORK TIMES BESTSELLER
A New York Times Notable Book of 2022
Named one of Vanity Fair's Best Books of 2022
Washington, D.C., has always been a city of secrets. Few have been more dramatic than the ones revealed in James Kirchick's Secret City.
For decades, the specter of homosexuality haunted Washington. The mere suggestion that a person might be gay destroyed reputations, ended careers, and ruined lives. At the height of the Cold War, fear of homosexuality became intertwined with the growing threat of international communism, leading to a purge of gay men and lesbians from the federal government. In the fevered atmosphere of political Washington, the secret "too loathsome to mention" held enormous, terrifying power.
Utilizing thousands of pages of declassified documents, interviews with over one hundred people, and material unearthed from presidential libraries and archives around the country, Secret City is a chronicle of American politics like no other. Beginning with the tragic story of Sumner Welles, Franklin Delano Roosevelt's brilliant diplomatic advisor and the man at the center of "the greatest national scandal since the existence of the United States," James Kirchick illuminates how homosexuality shaped each successive presidential administration through the end of the twentieth century. Cultural and political anxiety over gay people sparked a decades-long witch hunt, impacting everything from the rivalry between the CIA and the FBI to the ascent of Joseph McCarthy, the struggle for Black civil rights, and the rise of the conservative movement. Among other revelations, Kirchick tells of the World War II–era gay spymaster who pioneered seduction as a tool of American espionage, the devoted aide whom Lyndon Johnson treated as a son yet abandoned once his homosexuality was discovered, and how allegations of a "homosexual ring" controlling Ronald Reagan nearly derailed his 1980 election victory.
Magisterial in scope and intimate in detail, Secret City will forever transform our understanding of American history.
Format: Hardback
Publication date: 31 May 2022
ISBN: 9781627792325
Imprint: Henry Holt and Co.
Dimensions: 6 1/8 x 9 1/4
Pages: 816
Order now in print and ebook
Resources
Praise for Secret City
"Secret City by James Kirchick, is a sprawling and enthralling history of how the gay subculture in Washington, D.C., long in shadow, emerged into the klieg lights…A luxurious, slow-rolling Cadillac of a book, not to be mastered in one sitting. As an epic of a dark age, complex and shaded, Secret City is rewarding in the extreme."
Scrupulously researched and novelistic in style, Secret City is an extraordinary achievement. Shedding new light on figures we thought we knew, James Kirchick introduces us to compelling individuals we will never forget. Not since Robert Caro's Years of Lyndon Johnson have I been so riveted by a work of history. Secret City is not gay history. It is American history.
A remarkable, hugely impressive accomplishment — exhaustively researched, skillfully told, erudite, heartfelt — that speaks not only to the impact of double lives on our nation's life but also to the individual toll of veiling your soul. It makes me sad. But more than that, it makes me grateful, for all that has changed since those days of lies and whispers.
Frank Bruni
Contributing Opinion Writer, The New York Times
In Secret City, James Kirchick tells a Washington D.C. Cold War story that few have heard: how the political obsession with secrecy, together with the fear of communist influence, distorted perceptions not only of gay people, but of reality itself. Weaving together political, social, and cultural history, Secret City offers an unexpected corrective to the historical record.
Anne Applebaum
Pulitzer Prize winning author of Gulag and Iron Curtain
Now and then a new book about American politics comes along for which 'revelation' seems too tame a word, so profoundly does it alter our understanding of almost everything we thought we knew. James Kirchick's remarkable history of the "secret" life of Washington is just such a book–a triumph of investigation and story-telling.
Sam Tanenhaus
author of Whittaker Chambers: A Biography and former editor of The New York Times Book Review
Kirchick takes us from the FDR administration to Bill Clinton with a thoroughness and eye for detail that astonish. Lovers of Washington lore will enjoy the depiction of gay life in the nation's capital when it was entirely underground, and lovers of justice will take pleasure in the fact that some of the most repulsive characters in modern political history who ruined so many lives and careers are brought to justice in the only way they can be now: the historical record.
Andrew Holleran
author of Dancer from the Dance
Kirchick has written a mesmerizing and moving account of gay proximity to power, and the shocking resistance to it, in America's capital city long before the modern gay-rights movement began. Thanks to Kirchick, this important history will be overlooked no more.
Dale Carpenter
author of Flagrant Conduct: The Story of Lawrence v. Texas
Sign up for articles by email